Grooming appointments are scheduled through the clinic receptionist. Please call (608) 835-7007 to set up a time to have your dog or cats' day at the spa.
"My name is Maeve. The first year of my life I was a stray. Shelter From The Storm thought I was adoptable and got me off an euthanasia list. They thought I could learn to trust people.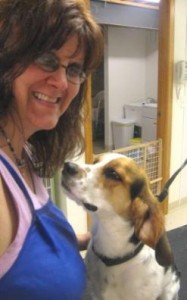 The last 10 months, my new Mom & Becky have loved me & have been working with me! I love them both!
Every 6 weeks, Becky gives me a bath, clips my nails, brushes me and more. I DO LOVE BECKY!
Lick…Lick, Maeve"